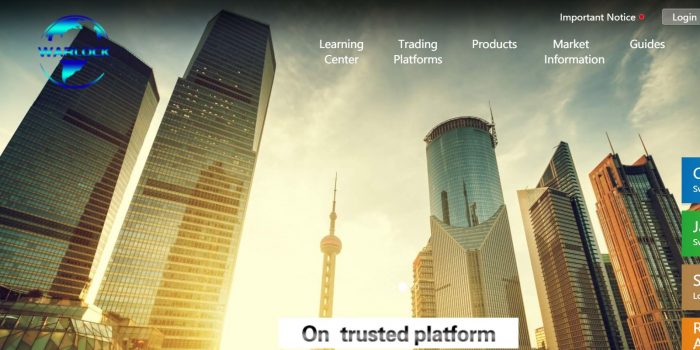 Warlock market Review 2022
---
Broker Name- Warlock Market Review
---
Broker Website- https://warlockmarket.com/
---
Address of the broker- China, Hong Kong
---
Broker Company- Warlock Market Limited
---
Broker Regulation- None
---
Warned by- Not Recommended By Review Website Like Report Scam
Note: Report Scam Community has conducted many researches before flagging Warlock Market as a possible scam in this Warlock Market Review.
Warlock Market Review: Introduction
Warlock Market Limited is a private limited company with share capital. It was incorporated on 19 April 2021 and the company number is 1343213 as financial intermediation which is not classified. The company Warlock Market Ltd. is supposed to be owned by ShaohuaTian who is supposed to be a Chinese resident. He owns more than 75% or more shares of the company. It provides online CFD and FX trading services to traders, individual investors, fund managers, banks, and other financial institutes. Is Warlock Market trustworthy? To know more, read the Warlock Market review. Please be aware of the risk and the potential scam.
Though it is just a year and a half old company, it claims to be the world's leading broker. There are many trading and registered addresses of Warlock Market. One is 5 Harbour Exchange, London, E14 9GE, United Kingdom. Another is 291, Brighton Road, South Croydon, United Kingdom, CR2 6EQ. Yet another is Unit G25, Waterfront Studios, 1, Dock Road, London, United Kingdom, E16 1AH.
U.S. derivatives industry (NFA) has yet not authorized Warlock Market which has license number 0540579. But the site claims it is authorized by Canada's regulatory authority FINTRAC with license number M21349412 under license type Currency Exchange. On the whole, Warlock Market's regulatory status is shady. By the way, the website is not working at present and is down.
As per information on its website, it supports five languages including Spanish, Chinese, and English,
Traders and clients can contact Warlock Market through WhatApp (24 x 7), through live chat (24 x 7), and Email ID [email protected] 
As the site claims, presently there is no Twitter, Instagram, or Facebook account practically just displayed on their website, is not integrated, and is not working.
Warlock Market: Trading Platform
The main platform (software) is MetaTrader5 or MT5 as it is popularly called. It is the platform many brokers use. It has many advantages over all trading platforms available. One can trade in forex, futures, and stocks from any web browser. The web platform does not need additional browser extensions or software, It has five indicators per chart. It is compatible withMac, Linux, and Windows. There are three chart types and 9 timeframes. There are nearly 30 indicators and 24 graphical objects. All these features can be assessed from any browser and at any time. It offers reliable data protection. It is ads-free. A trader can set custom time intervals and it has multiple watch-list. One gets real-time quotes.
Why not work with the online broker Warlock Market?
Regulation status is shady. Not clearly mentioned on its website.
Offers wide spreads on certain currency pairs, which make it difficult for traders to earn good profit. Normally it is two point or three-point spread on EUR/USD.
More or less it seems to be a signal seller or robot trading broker. Many a time these products are not tested and do not yield profitable or gainful results.
There are many reviews that people are unable to withdraw funds. This indicates that there is something fishy going on in Warlock Market.
The minimum deposit is quite high and can be viewed as a scam.
The website has not mentioned clearly whether it has a segregated account or not. In other words, the broker is not transparent. A segregated account helps individuals track the exact performance of their investments.
Due to non-segregated accounts, brokers take exorbitant salaries for themselves and staff on investors' money. They also buy houses and cars and lead a high-fi lifestyle with investors' money.
Because of tight regulations, markets are no longer inescapable. But still, the problem exists.
Also, check our list of scam brokers to get more names of brokers/companies/firms involved in scam activities.
Warlock Market Review: Conclusion
We, at Report Scam, work on hundreds of cases of fraud/scam. If you are a victim of an online trading scam, binary scam, investment scam, or dating or romance scam, we provide a free consultation. Contact us immediately, the sooner the better your chances of recovering your stolen money.
Fund recoveries are possible and let's get your money back from scammers/fraudsters. 
Facebook Page – Visit – ReportScam Community
Twitter – Report Scam Forum
Instagram – Reportscamcommunity