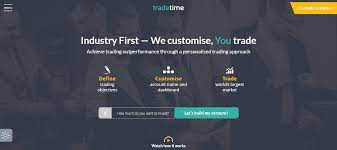 Overview of TradeTime Review:
At first look, TradeTime looks just like any other brokerage firm operating in the financial industry with the dreams of making it big someday. Offering trade in commodities, indices, and forex, the company claims to tailor the trades according to their capability and the amount they want to invest. Although this might sound like the doings of a well enough broker, this false impression is soon going to be ripped in front of you and we will tell you why.
About TradeTime:
In this section, we will be specifically discussing all the demands and offers met by TradeTime. We will also be explaining the red flags posted in this review.
TradeTime Regulations:
Regulations are a necessary part of any brokerage firm with the will to survive in the financial market. In our case, TradeTime claims to have a regulated license from VFSC or The Vanuatu Financial Services Commission. Upon looking into this license, it came to our knowledge that although such regulation exists, it is not up to the mark of a good regulator like ASIC or FCA. Therefore, it is clear that the company is up to no good without a license from the top-tier regulations. Furthermore, the Financial Conduct Authority or the FCA recently issued a warning against TradeTime suspecting the company of a scam. This gives us our first two red flags against the TradeTime scam in this TradeTime review. Now, this is enough for the interested traders to back off and declare TradeTime as a scam but we will further explain why you should not trade with TradeTime.
TradeTime Minimum Deposit, Leverages, and Spreads:
As simple as these points may seem, it plays an integral role within the traders while deciding which brokerage firm to go for. The minimum deposits demanded by legitimate companies are often capped at $100 as they are just for security. However, this is misused by all the scam brokers by demanding a very high minimum deposit and stealing it in the end. TradeTime demands a minimum initial deposit of $250. Although it may not seem likely, 250 USD is quite a huge amount for a broker to ask for as the minimum deposit and therefore gives birth to yet another red flag against the company.
The leverage offered by TradeTime is 1:400. The leverage is partly responsible for the customer's winning or losing in the trade. If the leverage is high, it increases the risk of the customers and they end up losing in the trade. As most of the scam brokers are market makers, their source of income increases when the customer incurs a loss. From this, it is of no surprise that this is yet another red flag against the company.
TradeTime Trading platform and Deposit/Withdrawal methods:
The trading platform offered by TradeTime is a web-based platform with a very clumsy and flawed working system. It is pretty clear from the outlook that the company paid very little or no heed in providing better service quality to the customers thus posing yet another red flag against the TradeTime scam.
The deposit and withdrawal are not clearly mentioned on the suspicious website.
Conclusion: Is it a Scam or Legit?
To conclude, we can safely say that TradeTime is a complete scam and we request our readers not to invest or trade with this company. One must only trade with a well reputed and regulated company for the best results!
To read more about Scam Brokers and their Review, Visit Scam Brokers 2021 Page.