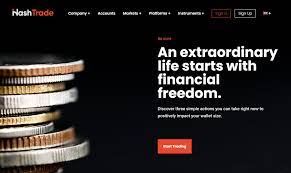 HashTrade Review: Is HashTrade a scam broker or legit?
Introduction to HashTrade Review:
HashTrade claims to offer all kinds of trading services such as forex pairs and CFDs on a variety of tradable instruments. Furthermore, the company brags about a lot of values such as being the best around and much more. Before getting into the review, we must let our readers know that these traits are very common in scam brokers. Such brokers never leave a stone unturned when it comes to bragging about themselves. If you are here with the intention of knowing whether HashTrade is a scam or not, all you gotta do is sit tight and read till the end of the HashTrade review.
About HashTrade:
In this section of the HashTrade review, we will be specifically discussing the problems created by HashTrade which indicates the scam they have been hiding.
Is HashTrade regulated by any of the regulators?
Without taking us on another ride of elaborate lies, HashTrade just straight away stated on their website that the company is based in the Republic of Dominica. If the readers don't know already, the Republic of Dominica is an offshore zone and is the breeding ground of scam brokers. HashTrade copies the same address in Dominica that is provided by many other scam brokers. This makes it clear that HashTrade is UNREGULATED. Thereby, giving us the first red flag in this HashTrade review.
Which trading software does HashTrade provide to its customers?
The moment we looked into the trading platform that HashTrade provides, it was clear that HashTrade does not provide either of the two most used trading platforms used by the regulated brokerage firms such as MetaTrader 4 and MetaTrader 5. The trading platform provided by HashTrade matches very distinctly with the common trading platform provided by many scam brokers. This gives us yet another indication that HashTrade is a potential scam.
What is the minimum deposit offered by HashTrade?
The minimum deposit demanded by HashTrade is $250. As you might not know, $250 is a huge amount to be asked as a minimum deposit from the customers especially when the minimum initial deposit demanded by regulated brokerage firms lies below just $10. This poses yet another red flag against the HashTrade scam in this HashTrade review.
Conclusion: Is HashTrade a scam broker or legit?
To sum up, all that has been stated above in the HashTrade review, we can safely say that all of the red flags indicate HashTrade is a potential scam brokerage firm. We warn our readers not to indulge in any kind of trade or investment with HashTrade as it is an unregulated brokerage firm. Even if you are proceeding with the action of trading with HashTrade, do it very carefully. IF you have been scammed by HashTrade brokerage, file a complaint with us. Our team of experts will analyze the complaint filed by you and then get back to you with a personalized set of solutions for you to get your money back. What are you waiting for? FIle a complaint and get your lost money back!