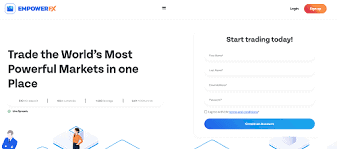 EmpowerFX Review: Is EmpowerFX a scam broker or legitimate?
Introduction to EmpowerFX:
Today, we are going to review yet another most complained about brokerage firm – EmpowerFX. EmpowerFX seems to have gone full out by putting out advertisements on social media sites and claiming the most basic lies to lure in customers. The company, on its website, claims to have the best trading conditions on the whole planet. Furthermore, EmpowerFX also states that the commission from their customers is relatively very low thus, making it easy for the customers to trade easily. However, all that is stated by EmpowerFX cannot be trusted. If you are here intending to know whether EmpowerFX is a scam or legitimate, you are just at the right place. We publish reviews about scam brokers every day to help you avoid scams.
About EmpowerFX:
In this section, we specifically discuss all the red flags hoisted by EmpowerFX. Read the full review to know more.
Is EmpowerFX regulated by any of the regulators?
When you see all the claims made by EmpowerFX, it is only valid to think that the brokerage firm must be regulated by at least 2 different regulations. However, their website suggests no evidence to have a license. Upon a little investigation to dig out the truth in this, we found out that EmpowerFX is actually based out of Saint Vincent and the Grenadines. An offshore zone, Saint Vincent and the Grenadines is home to many other scam brokers as no proper regulation operates in the place. From this, we can conclude that EmpowerFX is UNREGULATED. The company does not have a license and this makes it unfit to offer trade to the customers legally. We get our first red flag against the EmpowerFX scam in this EmpowerFX review.
What are the payment and withdrawal options offered by EmpowerFX?
A company that claims to be 100% transparent in front of their public, a move like this was completely unexpected. Upon checking their website for payment and withdrawal options, we found out that the company only lets us invest and withdraw money in the form of cryptocurrency. Now, this is a major red flag as one of the greatest disadvantages of transactions including cryptocurrency is the untraceability factor. It is clear from this that the activities of EmpowerFX are suspicious no matter what they claim.
Who is the founder of EmpowerFX?
After considering the two above-mentioned red flags in this EmpowerFX review, this might not be surprising for you at all. Every brokerage firm reveals the team working behind it and the founders as a mark of the collective experience of the company. However, this is not true in the case of scam brokers as their main motto is to hide most of the things in front of their customers that might risk the truth. We found absolutely no details or even the name of the founder of EmpowerFX or the team behind it. The company is completely anonymous raising another red flag in this EmpowerFX review.
Conclusion: Is EmpowerFX a scam or legit?
To conclude, EmpowerFX is a potential scam and we recommend you avoid EmpowerFX at any cost. If you have been scammed by the EmpowerFX scam, file a complaint with us.