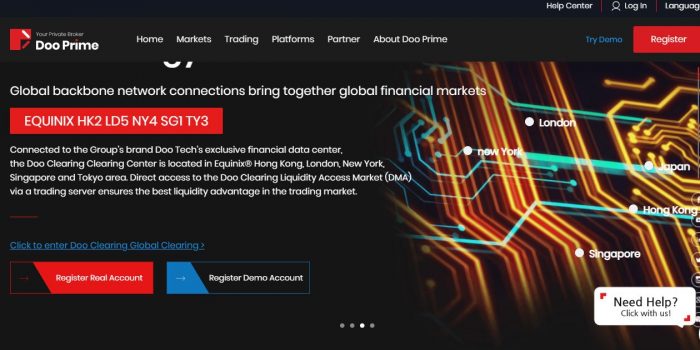 Introduction-
The Forex and trading market has become a popular wealth generation option for the people. Every day, new users are joining the trade industry in order to earn high profits and generate income. With the increasing popularity of forex market, there has been an increase in the forex scams also. These scammers are very creative and pretend to be the most legit trading firm, ultimately leading to the fraud and taking away the investor's money.
To choose your perfect trading partner, go through the reviews mentioned by Reportscam. Have a look at the Doo Prime review and get to know all about the trading conditions and working of the broker.
Doo Prime Review-
Doo Prime is an offshore forex broker that is registered in Mauritius and Vanuatu. The parent company of the Doo Prime is the reputable Doo Holding Group Limited headquartered in London. Founded in 2014, Doo Prime offers the multi-asset brokerage option. It aims to provide financial trading services to its clients spread across the world. Various researches states that the Doo Prime is regulated and licensed by Vanuatu Financial Services Commission (VFSC). As mentioned on their website, Doo Prime offers their retail and professional traders the best liquidity solution for financial markets. Doo Prime claims to offer tradeable financial instruments such as forex, precious metals, futures, stocks, and CFDs, etc.
Trading Platform-
Doo Prime offers the investors with most popular trading platforms that are MT4 and MT5. These platforms are widely used by forex and CFD traders due to their simple and intuitive interface. The trading platforms here, are equipped with the interface that are appropriate for Windows and Mac computers, Androids, iOs, etc.
Deposit and Withdrawals-
The deposits and withdrawal methods offered by Doo Prime includes online payment and local bank transfer. Investors here can choose their options at their convenience. However, the deposit and withdrawal methods here are limited as compared to other brokers.
Accounts, Spreads, and Leverages-
Doo Prime offers the investors with two accounts that are Quantum(ECN) and Classic STP) accounts. The minimum deposits of these accounts are $5000 and $100 respectively. The leverage varies here from 1:1 to 1:400 for Quantum and classic account both.
Apart from all the information mentioned above, the Doo Prime broker has received various reviews stating it as a scam broker. Various complaints have been registered as Doo Prime scam, where the investors are not satisfied with their service and statements. Also, the broker does offer its services to various countries like the US, etc. Doo Prime is an offshore broker that cannot be trusted upon as a whole and one should be aware before opening an account with them.
Is Doo Prime Scam or Legit?
Although Doo Prime is a registered broker, it cannot be stated that it is a legit broker with which you can invest your hard-earned money. Several traders have stated that the trading conditions at Doo Prime face a huge slippage. Also, some of the statements mentioned in their website create chaos and confusion in the mind of the investors. Hence, it is advisable for investors to avoid investing with Doo Prime.