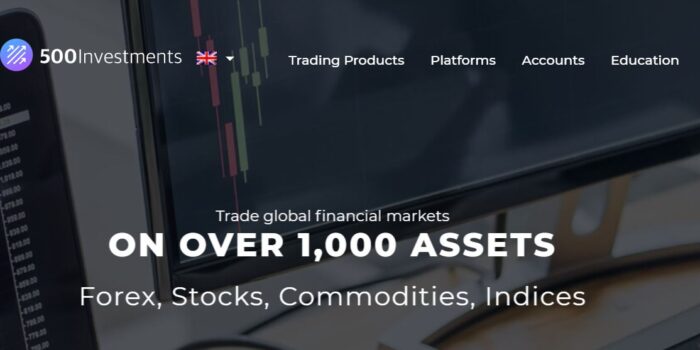 500 Investments Review 2023
Overview:
500 Investments claims to be a forex broker or a foreign exchange broker. The company claims to be regulated and that it is one of the best in the market. The investment market is considered to be the biggest in the world due to the immense profit the market makes. The forex market makes almost 5 trillion USD every day.
About 500 Investments:
Upon researching a little more about this broker, we realized that the company is run by another company by the name Cabsy Holdings ltd. Both the parent company and 500 Investments are registered at St. Vincent and the Grenadines, an offshore zone. The offshore zone observes a surge in the brokers registering themselves for a license every year. This is because the offshore zones would not do a thorough checking and give you the license. Registering yourself in an offshore zone doesn't even require you to be present there at the sight. The government of St. Vincent and the Grenadines stated in front of everyone that they do not regulate forex trading. Therefore, it is obvious that 500 Investments does not possess a license and thus is unregulated.
The broker company does not provide the MetaTrader 4 or the MT4 trading platform for the public. This is a red flag as most of the regulated companies will either choose a MetaTrader 4 or MetaTrader 5 that are also called as MT4 and MT5. The first page of their website is filled with unrealistic promises and fake offers. However, upon registering as a user, we realized that the company has clearly hidden various rules that company is a major scam. Most of the scam brokers adopt this method and try to hide most of their identity from the general public. They put up obstacles knowingly in order to make the customer divert his or her attention to anything else. The company provides a variety of payment methods for the withdrawal such as Visa, Mastercard, Yandex, QIWI, WebMoney and AstroPay.
Before investing in or signing up as a user in any trading company, one must always research about it. This would not only help you save yourself from a possible scam but also save your hard earned money. We must always cross check whether a company is regulated with the regulatory authorities. We should also read the detailed reviews carefully before depositing all of your hard-earned money with them.
Is 500 Investments a scam or legit?
Thousands of people fall prey to these scams every day. The only way to save you from this is to stay extra cautious and act practically. One must always look for regulated companies with positive reviews. You should also make sure that you read each of the company policies thoroughly. You must never put all of your money in one company, putting the money in various accounts will not only increase your chance at getting a profit but also will help you if one of the companies turned out to be a scam. In conclusion, 500 Investments is a complete scam and we strongly advise our readers to send us the complaints. You can fill our complaint form and we will help you in guidance towards the best Fund Recovery path.